NABCOP 2020 Annual Report
Click on the front cover of the report below to download your copy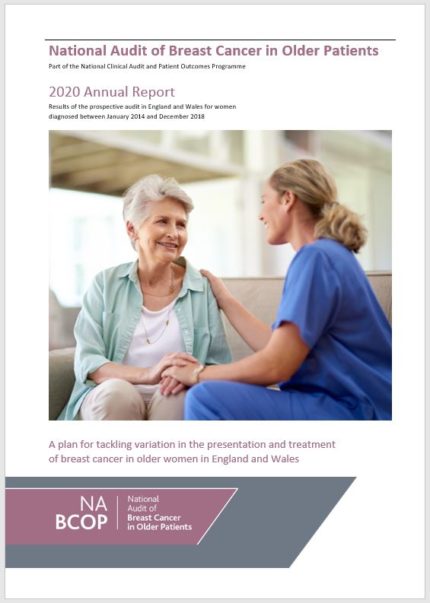 The NABCOP was a collaboration between the Association of Breast Surgery (ABS) and the Clinical Effectiveness Unit (CEU) of the Royal College of Surgeons of England (RCS), and was commissioned by the Healthcare Quality Improvement Partnership (HQIP) as part of the National Clinical Audit and Patient Outcomes Programme (NCAPOP).
This report presents results from the prospective audit of women aged 50 years and over, diagnosed with breast cancer between 2014 and 2018, in England and Wales. Specifically, it looks at the impact of age on patterns of care, treatment received and outcomes.
This version (1.1) was released on 8 March 2021, and included a correction to Figure 5.3 in the patient characteristics chapter on page 16.
Additional materials supplementary to the report, including individual NHS organisation results, are also available to download.
Click here to go to the supplementary materials for this report
For more information about the NABCOP, please visit our Resources page and our FAQs for professionals and the public.
If you have any queries about the audit, please contact us.
Published 9 July 2020