NABCOP guide to the breast cancer pathway for older women
The NABCOP was committed to providing informative resources for (use with) older patients newly diagnosed with breast cancer. To support this aim, we developed a 2-page guide to asking important questions along the breast cancer care pathway, in collaboration with our patient and charity representatives.
Although the NABCOP came to an end in October 2022, with two new breast cancer audits launched, the guide remains useful to patients and clinicians alike. It is of particular relevance to women aged 70 and over, with question prompts for patients to discuss key elements of their care and treatment with their wider breast care team, supported by their clinical nurse specialist.
To download a copy for use at your NHS organisation, or if you are a patient newly diagnosed with breast cancer, click on the image below: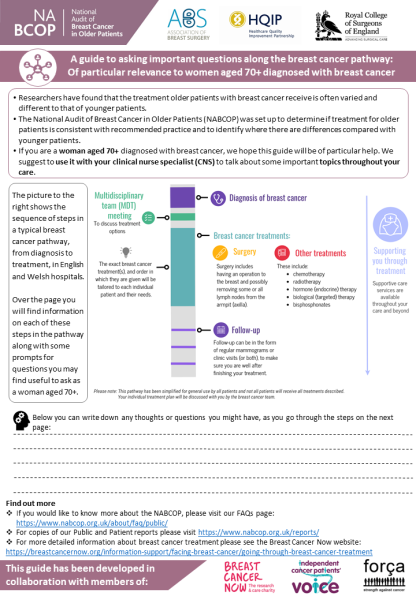 Last updated September 2022 (due for review September 2023).