Template for presentation of local results: NABCOP Annual Report 2019
This slide set is a tool to help NHS organisations in England and Wales summarise and present findings from the NABCOP 2019 Annual Report. It is specifically designed:
For review of regional / local NHS organisation results against National figures, or other organisations in your geographical region, and
As a tool towards developing a local action plan for quality improvement.
Click here to download the NABCOP local presentation template for NHS organisations in England
Click here to download the NABCOP local presentation template for NHS organisations in Wales
Preparing the slide set for presentation of your NABCOP 2019 Annual Report results
The slide set is a template that allows you to enter your data / graphs from the NHS organisation data viewer.
NOTE: A yellow marker has been placed to help you identify these specific slides. Example graphs using 'Royal Liverpool and Broadgreen University Hosptial NHS Trust' are provided.
2. Each slide contains instructions and guidance in the 'notes' area to help with your presentation. Please read these carefully.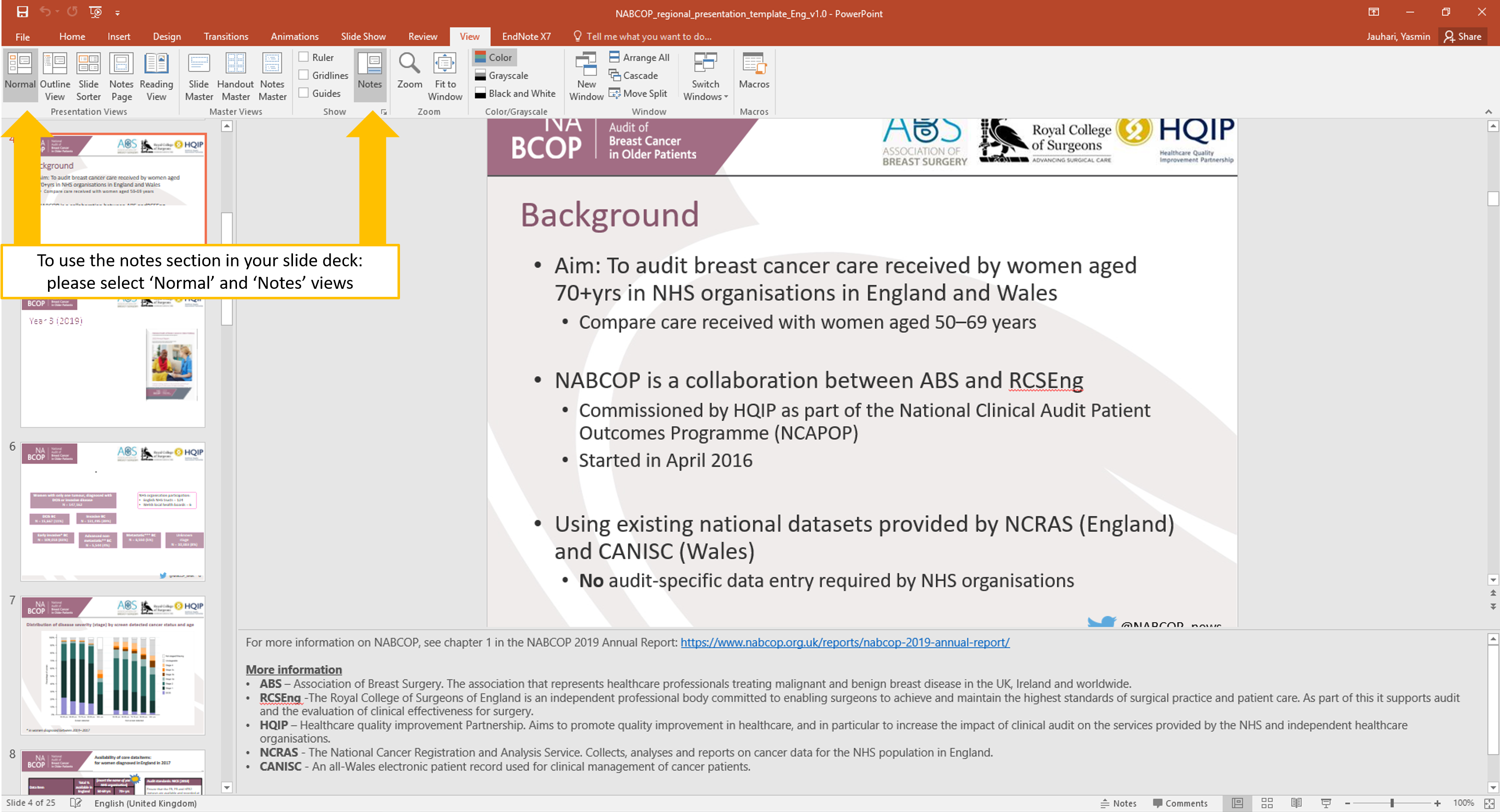 3. The final slide should be completed as per the NABCOP 2019 Annual Report findings for your NHS organisation and proposed local action plan. A more detailed template for an action plan can be found here.
Most importantly, the slide set is only a guidance. Therefore, please feel free to adapt the slides to suit your presentation and audience. This includes omitting specific slides.
We would appreciate any feedback on how to improve this template for future years: https://www.surveymonkey.co.uk/r/NABCOP_presentation_template
Direct links to the relevant supplementary resources are shown below:
| | | |
| --- | --- | --- |
| Resource | Description | Date Published |
| NABCOP Annual Report 2019 | The full NABCOP 2019 Annual Report presents the results from the prospective audit of women aged 50 years and over, diagnosed with breast cancer between 2014 and 2017, in England and Wales. | May 2019 |
| NABCOP Annual Report 2019 NHS Organisation Data Viewer | Includes the NABCOP 2019 results for individual NHS organisations, as well as 3 summary tabs on: data completeness for key data items, the main indicators, and a summary that allows for comparison of two selectable NHS organisations. | May 2019 |
| NABCOP Annual Report Methodology 2019 | Provides information on the methodology used within the NABCOP 2019 Annual Report, including detail on the data used to produce the report, measures of fitness and statistical methods. | May 2019 |
| NABCOP Annual Report Supplementary Guide 2019 | A guide to understanding the report content and using the NHS Organisation Data Viewer published alongside the annual report. | May 2019 |
If you have problems with the evaluation form or have questions about the NABCOP, please contact the project team at nabcop@rcseng.ac.uk or on 0207 869 6139.