Variation in PMRT for early invasive breast cancer in England and Wales
Variation in Rates of Post-Mastectomy Radiotherapy Among Women with Early Invasive Breast Cancer in England and Wales: A Population-Based Cohort Study.
Katie Miller, Melissa Gannon, Jibby Medina, Karen Clements, David Dodwell, Kieran Horgan, Min Hae Park, David Cromwell.
Published online: May 30, 2023. Clinical Oncology.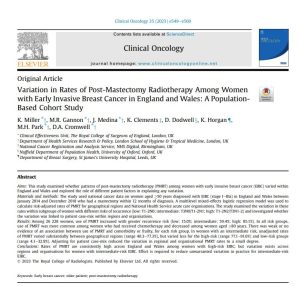 DOI: https://doi.org/10.1016/j.clon.2023.05.016